Feeders
Farmweld is an industry leader in designing and manufacturing hog feeders. Put our innovative products to work for your hog production system. From the sow to the nursery to the finisher, we have a pig feeder that fits your needs.
Four sow feeder types provide a broad selection for different production situations. From the LaborSaver to hand-feeding options like the Deflector, as well as wet/dry options, Farmweld has designed a solution for all producers. Cleaning is easy with the quick-release, tip-out feature on all Farmweld sow feeders.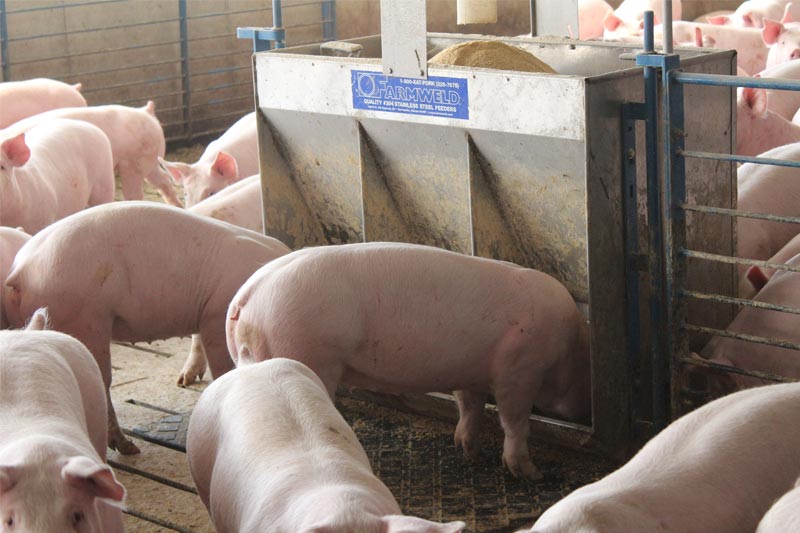 The Farmweld Challenger Nursery Feeder accommodates delicate, newly weaned pigs and is robust enough to withstand the abuse of the largest nursery pigs. Wean-to-Finish feeder options include dry and wet/dry options with large hopper capacity, even feed flow, hemmed edges and reinforced corners. Farmweld feeders are constructed with 100% #304 stainless steel to resist corrosion and damage by pigs.
The revolutionary R adjust™ System, available on Farmweld feeders, provides INFINITE control over feed adjustments, better control over feed costs and every feeder can be set at the same precise setting with no confusion. The R adjust System's innovative assembly uses a combination of tension, friction, and leverage for concise, worry-free control over feed dispersion.
Farmweld's dry feeders come with the option of Farmweld's Flip-to-Clean™ pig fencing system. This allows the feeder to be rotated upside down for thorough cleaning — without the need for removing the feeder from the fence line. Feed Tube Holders bolt onto the pig feeder and are available on the Farmweld Shelf Feeder, Farmweld Jumbo Feeder™ and Junior Feeders.
Please feel free to submit your inquiry below, or give us a call at 800-EAT-PORK