Gestation
Farmweld sow gestation products are designed and built to keep the gestation environment safe and secure, not only for the sow but also for the workers.
Combining user-friendly design, top-grade materials, and world-class workmanship, Farmweld provides value, performance, and reliability. From gestation stalls and breeding gating to options for pen gestation, Farmweld understands the importance of equipment longevity and being able to use your investment for years to come.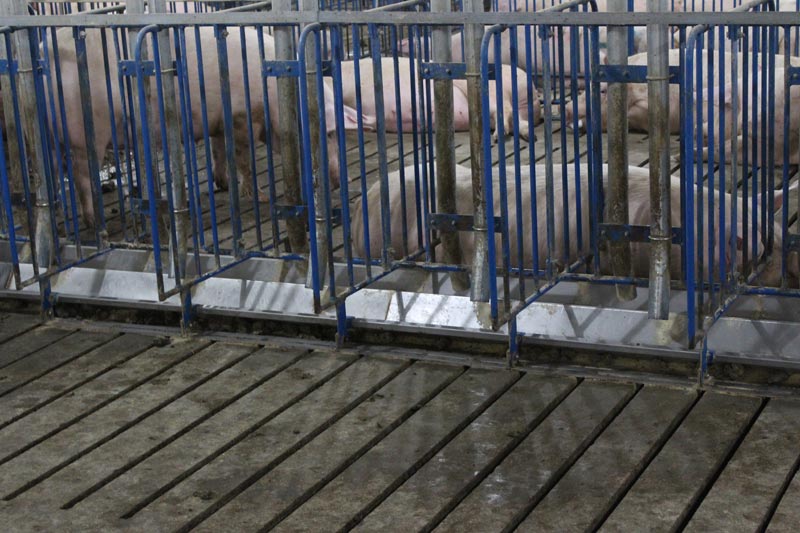 Farmweld Gestation Stalls have a low-back design to provide workers access to the animal. Swing gates in both the front and rear make it easy to move sows in and out of the stall and non-removable pull-pins ensure pins won't get in the way or lost.
Farmweld Breeding Gating is designed for breeding gilts and boars – tall and rugged to withstand wear and tear. Durable, high-quality materials result in uniform heavy welds that ensure the longevity of the gating as well as enhance the safety of workers and pigs alike. Vertical rods keep pigs from climbing and gates can be flipped to give twice the life. All gates are made according to your need and to fit each individual barn ─ no cutting or welding required on-site.
Farmweld Gestation Stanchions offer an open-pen gestation solution that protects each sow through the shoulder, ensuring less dominant-sow interruptions at feeding time. Stainless-steel legs, floor strap, double trough, and uniform heavy weld divider ensure durability and longevity – available in various sizes.
Farmweld Free Access Stalls offer sows the safety and comfort of eating without interruption from other more dominant sows. It also allows for a private retreat for the sow when she needs to escape the busy gestation environment. While not eating or relaxing, the sow can back out of the stall and join the community of other sows. The back gate can be locked providing workers access to the animal, making inseminating and checking sows easy and safe. Gates in both the front and rear of the crate make it easy to move sows in and out of the stall.
Pass-thru Gating
available for each divider gate line. This allows for easy access while walking pens.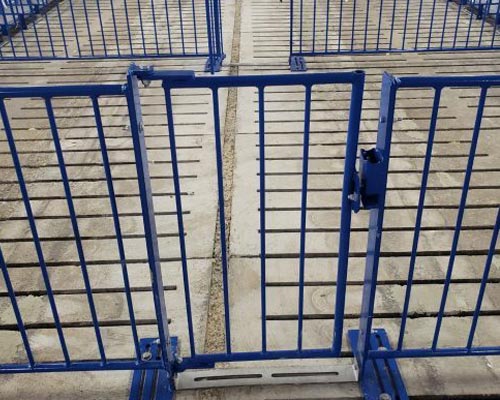 Please feel free to submit your inquiry below, or give us a call at 800-EAT-PORK