Flooring System
The Farmweld Flooring System includes orange polypropylene Flooring, Fiberbeams™, Farrowing Modular Cast Center Platforms, and Warming Panel™. Our sow platforms and nursery pig flooring systems are made of state-of-the-art polypropylene with no fill and work as an integrated system. These products are easy to install, and the high-quality materials ensure long-term durability. The material also provides easy and thorough cleaning the help keep pigs healthy and growing.
Farmweld's orange polypropylene flooring in creep areas minimizes stress and reduces piglet crushing. Piglets are warm and comfortable in the creep area sides versus the cool cast center, which motivates piglets to sleep away from the sow, out of harm's way. The textured surface creates excellent traction to keep pigs safe as they move about. The bright orange, non-porous plastic promotes the rapid transfer of waste into the pit and is easy to clean, which enhances biosecurity efforts. Flooring panels offer flexible sizing, easy installation, and minimum waste. Flooring panels can be cut every 4″ (102 mm) in width, so fitting is easy and waste is kept to a minimum.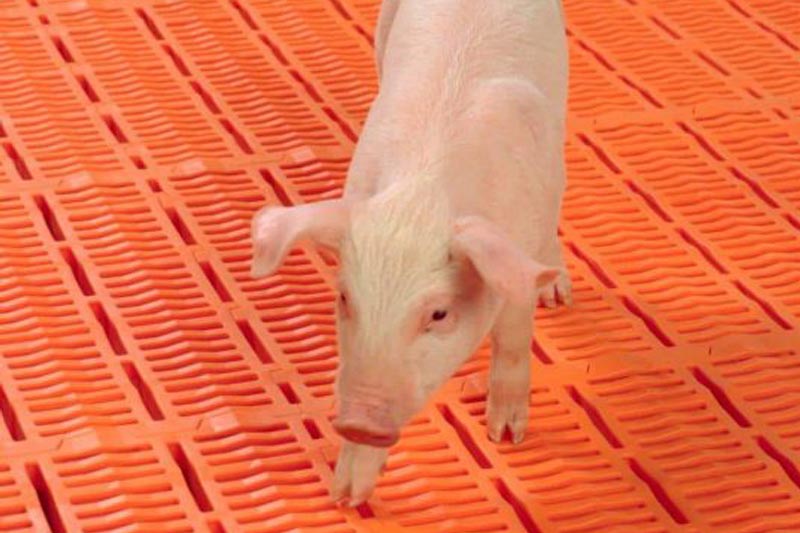 The Farmweld Flooring System includes Fiberbeams™ and Farrowing Platforms. Farmweld Fiberbeams are a solid fiberglass design that provides stronger, more stable and durable flooring supports with no gap for rodents to infest. The Farmweld Modular Cast Center Platform is made of cast iron to provide a cool, comfortable surface for the sow. These platforms are raised 1″ to give piglets access to the sow's teats to nurse easily, yet encourage piglets to move to the safety of the creep area. German or Ductile Cast options are available for placement underneath the sow.
Designed for seamless integration, the Farmweld Warming Panel™ reduces drafts and keeps newborn piglets warm and comfortable. Also, usable in nursery areas as a warming center. Made with virgin polypropylene material. Panel texture offers superior traction to improve the stability of newborn piglets.
Please feel free to submit your inquiry below, or give us a call at 800-EAT-PORK