About Farmweld
Farmweld is known for its innovation, high-quality products, and superior customer service. Our priority is to listen to producers and find ways to partner with them to make raising hogs easier, more efficient, and profitable. New ideas, designs, and products are all driven by Farmweld's commitment to providing solutions.
Rather than a producer going to multiple sources for equipment and making sure all pieces fit together, Farmweld offers equipment packages, ensuring that all parts of the equipment work together. We know that every producer operates a little differently, with management and equipment preferences based on what works for him or her. That's why Farmweld personnel sit down to work one on one with customers to provide the products that best fit their specific needs.
Swine producers worldwide trust Farmweld. to deliver the most efficient, most durable swine equipment available. Dating back to 1979, the company is based in Teutopolis, Illinois, with all manufacturing done onsite. Farmweld products are precision-crafted and proven in the field, as well as in numerous university trials.
When swine producers buy Farmweld equipment they enlist a team of experienced, dedicated and energetic, professionals committed to helping them achieve their goals. From the salespeople who carefully help determine what's needed to equip a facility to the AutoCAD operators who design a project to the welders who build feeders and the warehouse personnel who oversee the shipping, customer satisfaction is Farmweld's No. 1 priority.
Quality Manufacturing
Efficient manufacturing techniques, including the same robotic welding technology used in the auto industry, enable Farmweld to mass-produce highly uniform, precise equipment. While automation streamlines production, each Farmweld feeder is hand-welded and signed by a master welder.
Constant dialog takes place between sales, design, manufacturing and shipping departments to see that orders are delivered according to the customer's exact specification. Farmweld staff members sit down for a short meeting every day to discuss the workflow and production schedule including trucking and any unique product needs. This keeps projects on track and all aspects taken care of so the producer has the best experience.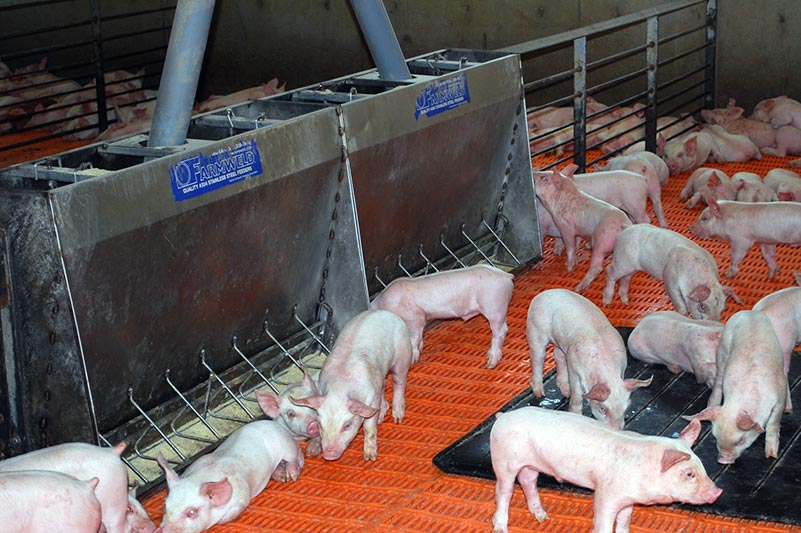 Farmweld's History
Farmweld's story begins in 1979 with farmer clients, who were wary of the poorly-designed feeder models then available. From the beginning, Farmweld listened very carefully to what farmers had to say, their goals, and what they needed from the equipment as well as animal behavior research from major agricultural universities.
Please feel free to submit your inquiry below, or give us a call at 800-EAT-PORK