R adjust™ System
Farmweld Jumbo Feeder™. – promotes natural eating, minimum waste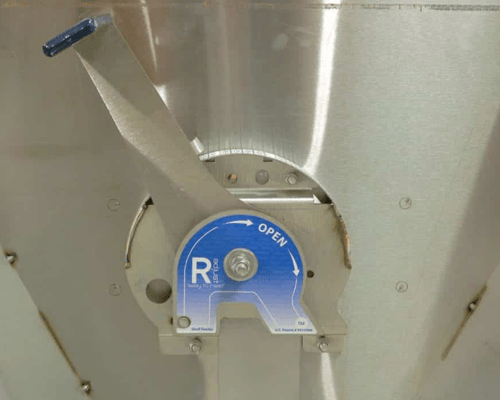 The revolutionary R adjust™ System, available on Farmweld feeders, provides INFINITE control over feed adjustments, better control over feed costs, and easier management all with no more clicks. The R adjust System's innovative assembly uses a combination of tension, friction, and leverage for concise, worry-free control over feed dispersion.
The adjustment moves smoothly and easily to fine-tune feeder settings for maximum feed efficiency with no clicks or ratcheting. Every feeder with the R adjust System can be set at the same precise setting with no confusion.
The R adjust moving feed gate agitation system with easy top adjustment means less waste because access can be made "just right" to match pig size, and feed flows evenly and does not wick up moisture from the feed bowl. The R adjust is easy to operate for extreme accuracy of feeder settings, thus leading to maximum feed savings.
Feeder adjustments need to be able to adapt to the feed phase, from pellets to mash and everything in between. The R adjust System gives the operator the power to maximize the feed flow of every feed phase while decreasing wastage.
Download our R adjust System™ document (PDF) to learn more about what we offer. 
Please feel free to submit your inquiry below, or give us a call at 800-EAT-PORK
What our customers say about our R adjust System™.
"From grower to grower, when you say that certain number, 27, which is where my feeders are set, it's consistent. I'd say that's a plus to go from one grower to the next and get uniform adjustment numbers. Once you set the R adjust to a place where the pigs are keeping the shelf clean and dry, as well as keeping the pan clean, there's not much adjustment,"
"R adjust™ has the handle and the friction disk. Adjusting the feed gate is a simple matter of moving the handle. I've only adjusted the feeders two or three times per pig group– once for a pelleted feed and one or two times when we switched the pigs over to the ground feed. Another contract grower asked me where I have my feeders set; so he has an idea where to set his. Because each Farmweld feeder with R adjust provides a consistent setting from feeder to feeder and they're so easy to adjust, I can tell him exactly where to set his feeders at a particular time,"
"The R adjust is so much nicer than what we had before. All you have to do is just slide the handle. Once you get it set, you don't have to ever worry about moving it up or down,"