Paddle Feeder
Farmweld Paddle Feeder – precise feed flow, minimum waste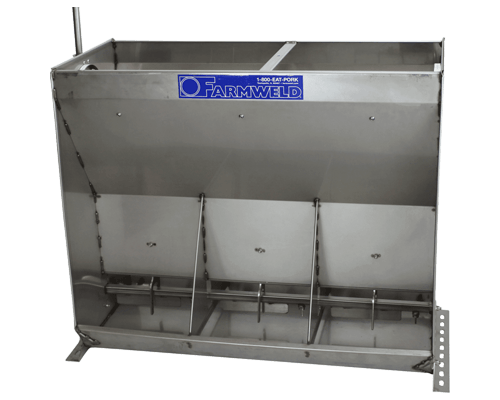 Choose the Farmweld Paddle Feeder for advanced wet-dry feeding from the leader in wean-to-finish feeder design.
Early-weaned pigs in wean-to-finish barns take off quickly with Farmweld Paddle Feeders, by allowing feed to flow evenly to enhance feed consumption and reduce waste for pigs from 10 pounds to market weight.
The Farmweld Paddle Feeder offers the patented R adjust™ System with easy-to-read technology. The revolutionary R adjust System provides INFINITE control over feed adjustments, better control over feed costs and easier management, all with no more clicks. The R adjust System's innovative assembly uses a combination of tension, friction and leverage for concise, worry-free control over feed dispersion.
"I'm tickled to death with the Farmweld Paddle Feeder. We never have plugged feeders and can start any age of pig."
Download our Farmweld Paddle Feeder document (PDF) to learn more about what we offer.
The Farmweld Paddle Feeder makes it very easy for pigs to get the feed they need. Small pigs step in to work the agitator and large pigs can eat comfortably without having to tip their head or move in and out of the feeder.
Pigs use the paddle to agitate feed into the feed pan. The hog feeder features the R adjust that allows for finely tuned adjustments that match feed flow with eating behavior. So, just the right amount of feed is delivered to the pan. Any pig can eat comfortably and efficiently without wasting feed.
More hopper capacity – The 36.5″ (927 mm) height of the Farmweld Paddle Feeder allows for greater hopper capacity. The extra height also limits pigs from eating from the top and keeps them away from the drop tubes.
High-quality Farmweld construction – The new Farmweld Paddle Feeder is constructed using #304 stainless steel with a #430 stainless steel hopper. Full-hemmed edges and reinforced corners mean a better return on your investment. All components are built with heavy-duty 16- and 18-gauge stainless steel to resist corrosion and damage by pigs.
Roomy feed spaces – Today's heavier pigs require bigger feed spaces. The Farmweld Paddle Feeder's feed spaces are 14″ (356 mm) wide x 9.25″ (235 mm) deep. The wide feed space allows pigs to eat straight at the feeder rather than at an angle that can block neighboring feed spaces.
Newly designed, reinforced foot provides durability and a more stable feeder for bolting to the slats.
The R adjust is easy to operate for extreme accuracy and infinite control of feeder settings. The innovative numeric dial makes it easy to select and communicate the proper feeder settings to your production team.
High-quality water nipples – Each Farmweld Paddle Feeder has a stainless steel water pipe that feeds Edstrom™ high-quality nipples – one nipple per feed hole. There are no screens or springs in the design for less maintenance and longer wear life than lower quality nipples.
Farmweld Paddle Feeder's solid dividers – also contribute to safety because they are designed to keep small pigs from getting caught or injured underneath the dividers. The design of the pan area helps to keep smaller pigs from getting caught behind the nipple or between feeding sides.
Various feeder lengths are available, including 28″ (712 mm) with two feed spaces, 42″ (1,067 mm) with three feed spaces, 56″ (1,423 mm) with four feed spaces, 58" (1,473 mm) with four feed spaces, 70″ (1,779 mm) with five feed spaces and 84″ (2,134 mm) with six feed spaces.
The Paddle Feeder is also available in all #304 stainless steel.
Please feel free to submit your inquiry below, or give us a call at 800-EAT-PORK