Shelf Sow Feeder
Farmweld Shelf Sow Feeder – flexible, durable, efficient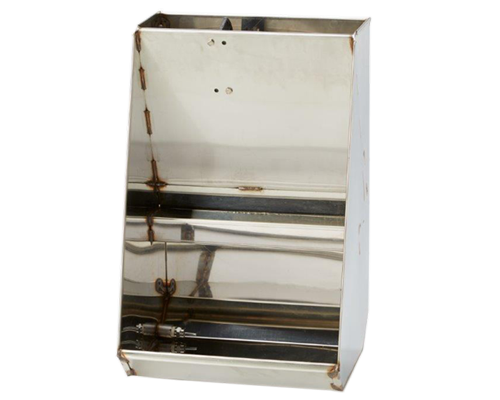 Featuring a raised-shelf, this feeder allows sow to eat comfortably and keeps feed fresh. A click-adjust makes it easy to set precise flow settings and ensures even feed distribution.
An Edstrom nipple, positioned inside the feeder limits waste yet allows the sow to consume water while eating.
Feed cleanout allows for easy cleaning.
A large, 16″ x 15.5″ (407 x 394 mm) stainless-steel trough gives the sow enough headroom and a high front lip prevents feed from dropping into the pit.
Farmweld Sow Feeders feature fully welded 100% #304 stainless steel. This is the same material used to store corrosive industrial chemicals, which means the feeders are highly durable, resist corrosion and damage. Edges of Farmweld Sow Feeders are also completely hemmed to prevent injuries.
The Farmweld Shelf Sow Feeder is mounted four inches off the floor so air can move throughout the crate and give the sow plenty of room for resting and sleeping. This also provides small pigs an escape space.
Cleaning is simple with the Shelf Sow Feeder. A quick-release allows the feeder to tip out. This feature allows for quick cleaning and drying.
The commitment behind all of our sow feeders is to provide an efficient product. Farmweld sow feeders are designed to provide ready access to fresh feed to ensure your lactating sows are productive and healthy, which also translates to robust piglets.
Please feel free to submit your inquiry below, or give us a call at 800-EAT-PORK